It is important to learn about the WooCommerce, WordPress and Digital Marketing nerds you are going to partner with.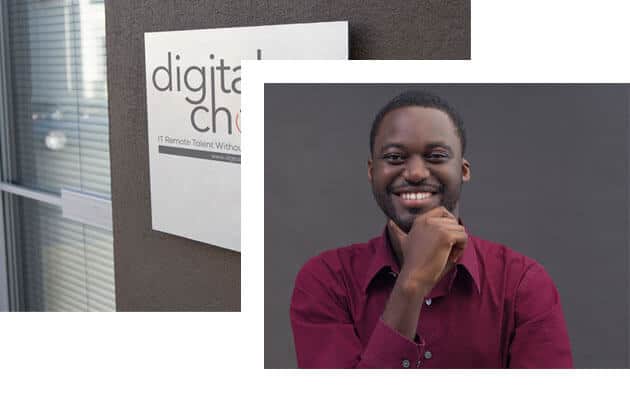 Everyone has a story, here is ours!
DigitalChores Website Design and Development's journey started back in 2013 when our founder, Dominic Mensah, was contracted by a family friend to build an eCommerce website for his building/construction business.
This was the year that the word "selfie" was added to the dictionary, and the Pope joined Twitter for the first time!
Since then DigitalChores has grown into a team of 7 technologist.
Who We Are Today
DigitalChores is a Lafayette-based web design, development, SEO, and digital marketing agency. Our approach is to help small businesses create and adopt digital experiences in the rapidly changing, mobile-first digital space. We are creatives, we are digital marketers, and business-savvy people. We build digital solutions that bring value to small businesses and impact.
Our Team
Our website design projects start with a collaboration with you. We want you to see us as an extension of your business, everything that we do is solely based on conversations with you. DigitalChores is a team of 7 awesome people working together since 2016. Our main office is located in the heart of Lafayette, Louisiana. Our WordPress, eCommerce and professional web developers are spread out around the world. We work with only 1 goal in mind – building websites that work so your business can grow exponentially.
You will always have a team of trusted experts by your side.
Our Philosophy
It does not matter how big or small your business is, what stage your business is, we apply the same high standards across board. What you will enjoy the most while working with us is proven results, flexibility, effective communication and going above and beyond to ensure your business goals are reached – no excuses.
We are here to partner and help you succeed online, regardless of your industry. We create high performance websites that attracts the people you care about. Our customers get websites that help them simplify their messages, mobile responsive and the right representation of their business.
Expertise
Implementing website technology is what we know best, we do so without losing sight of what matters to your business. Our expertise are web design, website redesign, ecommerce, and digital transformation strategy. When we start your project, there is no doubt that we will deliver beyond your expectations.
It is our job to understand how you operate your business, and be the vehicle  that allows your business to flourish. Here is a great overview of our work process that helps us deliver the results you are after.
Fun Time
You have heard it before "all work and no play makes jack a dull boy".
When we are not in front of the computer, coding or thinking up digital strategies, you can find us on the soccer field, dancing to our favorite tunes or at the local food festival tasting any and everything we get our hands on.
RECOGNIZED AS A TOP DIGITAL AGENCY FOR SMALL BUSINESSES
I highly recommend the team at DigitalChores Website Design and Development to any organization looking to develop a professional website which gives you the greatest visibility, exposure and opportunity to develop your business. From start to finish they could not have been any more accommodating. Great customer service, very ethical, and highly professional. We have received great feedback from those who viewed my website, what more can you ask for.
Samuel A., My Extra Eye Security
Ready to grow your business?
We love hearing about unique and interesting projects, and can not wait for the opportunity to have a conversation with you.